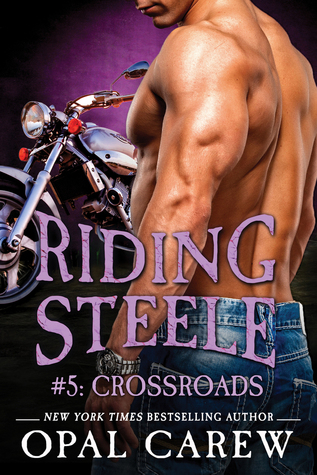 Published Synopsis:
Being kidnapped by bikers is a harrowing experience, but for some reason, Laurie doesn't feel as terrified as she should. The leader's steely eyes soften when he looks at her, and the others in his gang clearly know she's hands off. But does that include Steele's hands? Her brain resists him, but her body insists she wants those big hands all over her.
Steele doesn't know how he wound up in this mess–with a kidnapped woman on his hands and the police hot on their trail. Now he and Laurie are in hiding at an isolated cabin, and Steele has to figure out how to extricate himself . . . and steer clear of his accidental captive whose tight, slinky clubbing attire is making him think all kinds of dangerous thoughts…
My Review:
Warning!! This turns into a very graphically erotic series!!
Part #1
This was a very good intro. to this series. It was short enough and had a great story that draws you into the series.
Craig drunkenly suggests his friends kidnap his sister to protect her from her boyfriend. He has a bad feeling about him. Laurie is on a bad date & an MC club group is watching her. They have no plans to actually kidnap her, but in a freak moment, one member does… It continues there with the introduction of the characters running through this series…
I read it in one sitting & jumped straight into the next one….
Part #2
Holy Shit!! Well… Just saying that I had no warning about the group sex thing that was going to happen!
Laurie runs away & comes upon the the only other female in the group, swimming naked & strange men come up saying they want her. Not Laurie, the other girl. Laurie thinks she's in trouble & runs for help. Ummm… the girl ain't in trouble, that's for sure!
Later, Laurie attempts to run away & gets pretty far.
The more this goes on, the cheesier it gets, but the underlying story is pretty good. I want to know more about Donovan.
Part #3
Now that I have started to read this series, I am compelled to finish. Still the underlying story is pretty interesting & I am going to finish this series, so I know what happens.
After the police bring Laurie back & she still tries to escape, Steele gets mad at her & she asks Raven for help to lure him to her bed… She wants him.
I am getting bothered with the constant "how could a strong & independent woman let a man hurt her & she lets it continue" It's a question to herself all the time, and I want to know too, because she is seeming pretty wimpy & zeta to me…
This whole thing about passing a woman around freely is just different. Surprisingly, that's the only issue I don't like. Everything else is more like "whatever" and move on.
Now, Steele & Laurie have to go on the run.
These books are so short, I can't really give away the whole story.
Part #4
After being accused of stealing the diamond necklace gift, Laurie & Steele are on the run.  Steele decides to share his woman & it turns into a "Laurie does 'em all" scene.  Ha! Which made me laugh at the "WTF" factor at the ease in which she participates, so beyond the "Okay, I'll do it, but I'm afraid to strip in front of them" (not ver betum) hysterical, because she needs a beach towel??   She & Steele fight, he drives off…rides off, sorry! And she has to return the necklace for the charges to be dropped…
Cheesy funny with not much story in this part…
Part #5
With charges dropped after returning the necklace to the police… stupid set-up, her going in alone… Laurie is once again kidnapped, tortured & rescued.
This one was probably the best, with all the psycho-drama & impending doom. Sorry no more group sex here. If this whole book had this kind of suspense going on, it would make for a great dark read. Not that I'm a masochist, but after thinking this series was pretty cheesy, this was ALMOST a redemption.
Part #6
Well, situation over… Laurie with PTSD & Steele working with her… They have to decide their future together & it's not looking so good.
Summation of entire novella series:
This series, I think is trying to be over the top in shock value, but lacks in the important part of the entire plot. Most seems unrealistic except in some fantasy world. I can see it in the meth world, but beyond that…. Uh nope. Some crazy fool out there, maybe, but good looking people who are described… Hell no. Ain't gonna happen!
For what I read as a cheesy romance, that can be sold in an adult book store for thrills, this was funny & beyond reality, except for the bad guy. So sad that his was the only realistic character.
Now, I read (present tense) some good erotic novels, this one just had too many WTF factors going on and it's way to hard to give it a review to a book broken down into mini bits… I think all in one book it may have gotten a better review